You have chosen to install a wedding camping for your wedding and you want to immortalize the most beautiful moments of this day by nice photos? Why not make one or more photo booth? Mon Wedding Camping has selected 10 photo booth ideas for your wedding camping.
1. a photo booth with lace curtains...
A curtain rod hanging between two trees or a wooden frame made for the occasion with 3 wooden cleats bought in a DIY shop, 2 Lace Curtains in brocante, bouquets of flowers as an embrases, a pretty vintage Chair and the tour is played for this beautiful vintage inspired photo booth!!!
2. with a simple frame suspended by pretty ribbons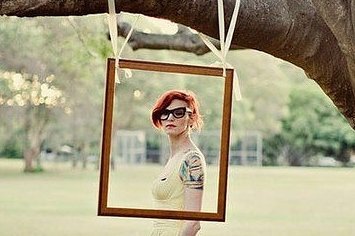 mossgreenimages
A frame and 2 ribbons matching the colors of your wedding, the simplest and most economical of the photo booth to realize...
3. a Polaroid way photo booth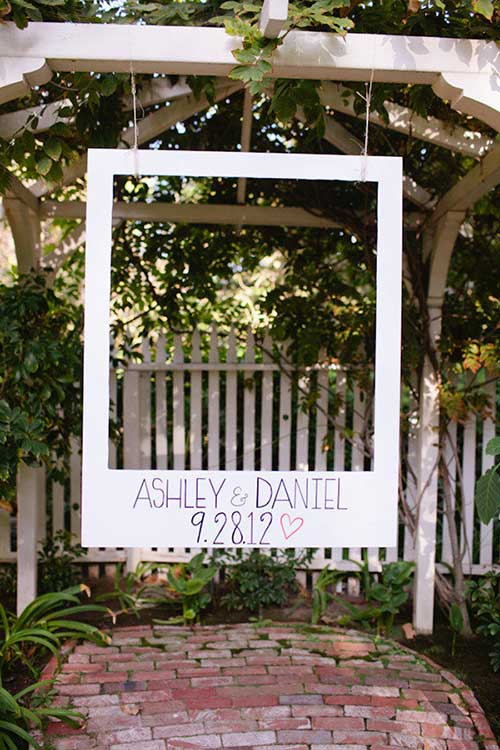 To make this photo booth, you will need a cardboard Board such as those used in photo frames, a cutter and some markers. Cut a hole in your cardboard Board with a minimum of 5 cm on each side for strength. Customize the frame obtained with your first names and the date of your wedding, hang with a few strings of rope.
4. with a balloon arch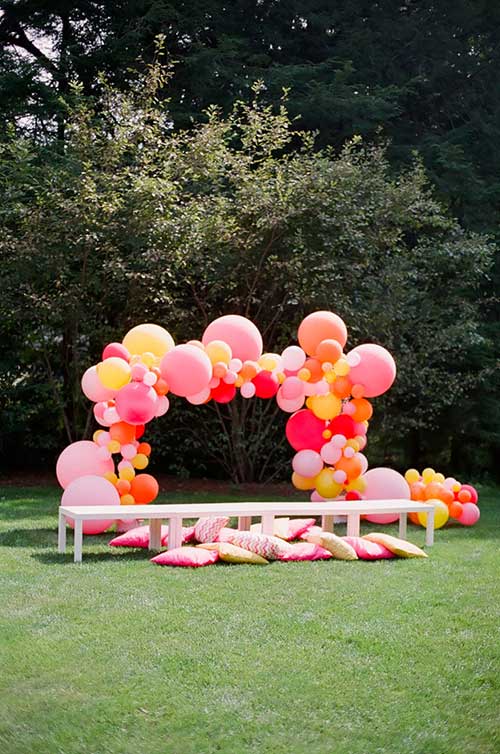 Buy balloons in the colors of your wedding, inflate with a helium bottle (found in party stores or also at Toys'r'us) and tie together with Ribbon or rope. Attach the ends to the floor and admire your realization. Beware, the duration of inflating balloons with helium is limited, only inflate your balloons until the end of the morning of your wedding if you want your photo booth lasts until the evening...
5. with frames covered with crochet and embroidery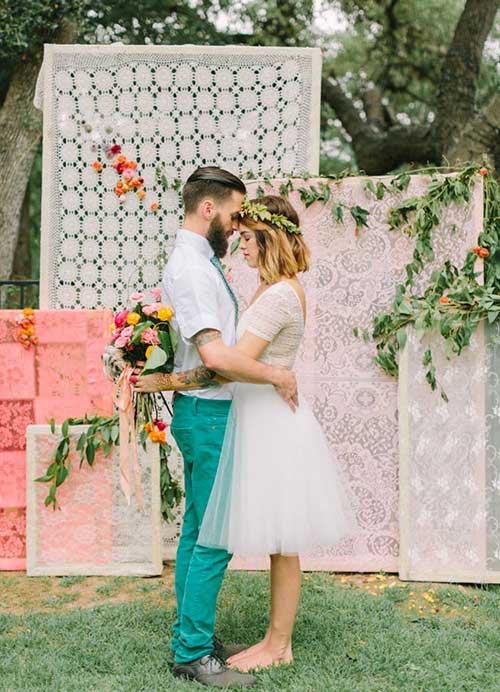 This photo booth will ask you a little more time to make but the result is so romantic that I could not resist the pleasure of presenting it to you. To make this photo booth, you will need wooden frames, fabric and a stapler with upholsterer.
6. with pretty ribbons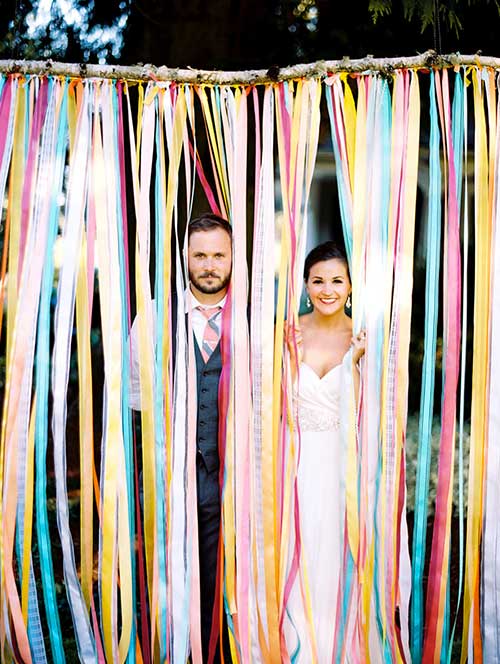 Very simple to realize, this photo booth will only take you a little time to realize: a curtain rod hanging between 2 trees, ribbons in the colors of your wedding cut and fastened to the rod tight enough to create a curtain effect and you can start your photo shoot.
7. with a small sofa transformed into a Bohemian boudoir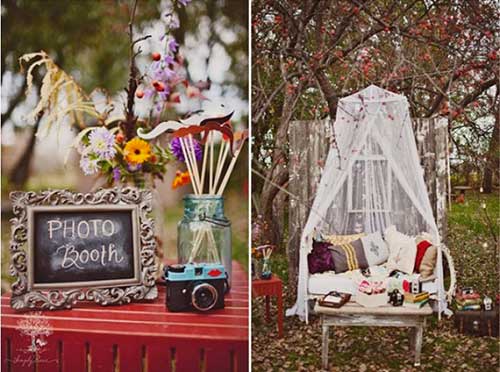 Fans of salvage and flea market, this photo booth is for you, some vintage items marl in flea market, a small sofa and some nice cushions will make your photo booth a Bohemian boudoir of the most cosy. Create your own ambiance and make a photo booth that looks just like you.
8. a photo booth with wood panels and Ribbon Garland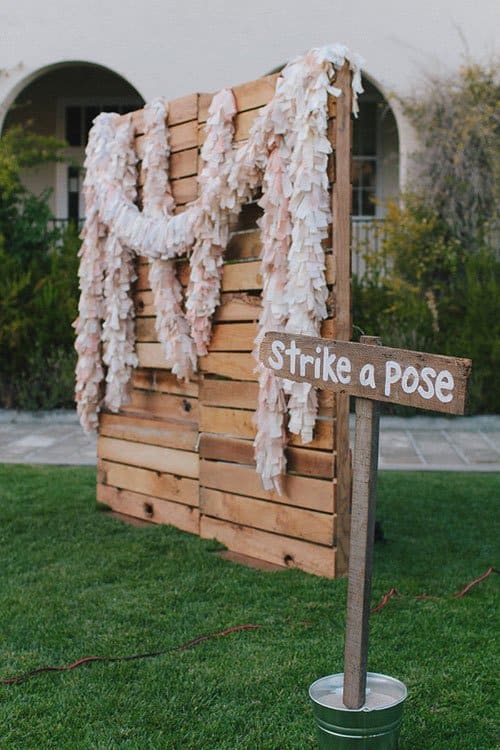 Jake + Necia photography via Smy pretty
To make this photo booth, you will need a wooden panel bought in a DIY store or borrowed for the occasion from a member of your family and some garlands assorted to the colors of your wedding for decoration.
9. with trompe l'oeil frames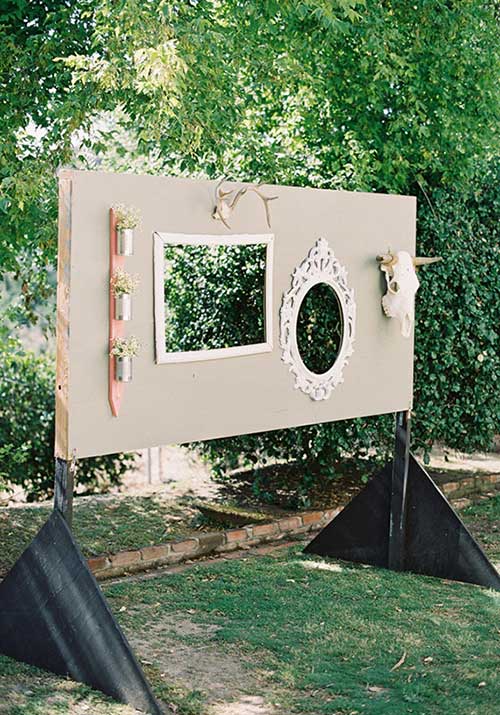 I'm not hiding that to make this beautiful photo booth, you will need a dad or a husband gifted with his hands but if you have this chance, go ahead and ask them to make you this country photo booth that will surely delight your guests. Cheap and easy to personalize...
10. with signs Mr & Mrs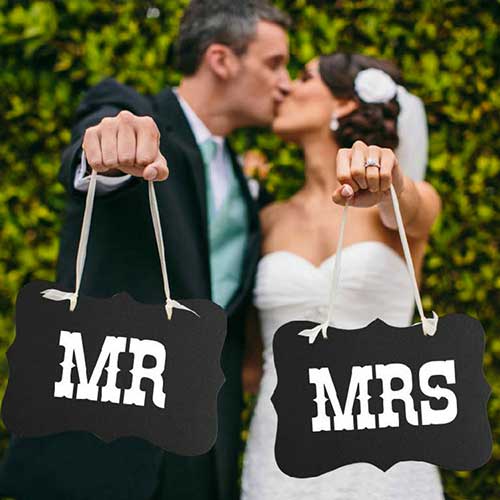 Hello-Pompon
These pretty signs are very easily found on the Internet, if you crack for these pretty signs, follow the link under the photo, you will find this product.
You now have a glimpse of what it is possible to achieve as photo booth for his wedding and at low cost. Success and smiles guaranteed!!! Don't miss out on the opportunity to make yourself some original photos that you'll enjoy watching again and again after your wedding.
And you, did you find your ideal photo booth, which one do you prefer? Share with us your ideal photo booth!!!
Mon Wedding Camping is a brand of the company Ça Me Tente - Hôtellerie nomade since 2014.