Photo credits: 1-MToilet 2- Lovely toilets 3- Organic sanitary facilities rental
Many of you are asking questions about renting mobile toilets for your wedding and especially for your camping wedding. So we wanted to bring you all the necessary information in this article to help you make the right choice according to your needs. WC rental chemical wedding, rental of wedding dry toilets, rental of sanitary bungalow..., we will reveal everything.
1. how to choose between hiring chemical wedding toilets, renting dry toilets and renting sanitary bungalows?
There are 3 types of mobile sanitary rental suitable for event use such as a wedding: the rental of chemical toilets, the rental of dry toilets and the rental of sanitary bungalows. What are the differences between the 3? What are the pros and cons of each of these mobile toilet solutions? That's what we're going to explain.
Way of using: the rental of chemical wedding WC also called autonomous WC rental or mobile toilet rental is to rent WC cabins designed specifically for outdoor use. Made of molded polypropylene, they are very easy to install on all types of ground because they are autonomous in water and electricity.
Operation: chemical toilets are very easy to use, consume little water but require the addition of chemicals to dissolve organic matter and reduce smells. NB: some providers now offer the rental of chemical toilets using only biodegradable cleaning products, i.e. they do not contain formaldehyse, a component polluting the environment.
 Budget: count between 200 and €300 to rent a wedding WC excluding delivery costs. Rates are often degressive if you opt to hire several wedding toilets.

Advantages: price, availability

Disadvantages: aesthetic sometimes Recalling the construction booths

Principle: the rental of dry toilets otherwise called compost toilet rental is to rent WC cabins designed specifically for use without water or chemicals. Often made of wood, very aesthetic, they are all as easy to install as the chemical toilets because they do not require a connection or an evacuation system.
Operation: dry toilets, unlike preconceptions are very easy to use. Organic matter (stool and urine) is covered at each passage to the toilet with other wastes of plant origin (wood, straw) called "litter", which allows to create an anti-odor and anti-moisture filter.
  Budget: theprice is substantially comparable to the rental of chemical toilets. Count between 200 and €300 for the rental of dry wedding toilets excluding delivery costs. Here too, rates are often degressive if you rent several compost toilets for your wedding.
Advantages: aesthetic, eco-friendly

Disadvantages: still a victim of certain prejudices.

Principle: the rental of sanitary bungalow otherwise called sanitary caravan rental consists of renting several sanitary facilities combined in one block: usually from 2 to 8 units. Some models are said to be connecable, i.e. requiring a connection to the electrical and electricity while other models display a complete autonomy.
Operation: sanitary caravans have the same type of operation as chemical toilets. The sanitary bungalows are often of type connecable. Both provide extra comfort due to their acoustic and thermal insulation. In addition, they can benefit from additional options such as hand washes, mirrors, heating, handdryers, indoor and outdoor lighting.
 Budget: count between 1000 and €3000 for renting a caravan or a sanitary bungalow excluding delivery costs according to the number of health units and options chosen for your wedding.
Advantages: comfort, insulation
Disadvantages: price, congestion
2. Which providers to turn to for the rental of wedding WC?
By typing the keywords " 
wedding WC rental
 "on Google, you will get many links to companies offering mobile sanitary facilities. However, we advise you to head both to companies specializing in the rental of event toilets but also located close to your place of installation. Indeed, if the tariffs are substantially comparable between the different mobile sanitary rental agencies suitable for use in the context of a marriage, the cost of transport (2 round trips to be foreseen) could make a big difference on the final price. Do not hesitate to add your Department in your search keywords and compare the distances from your place of installation to the pre-selected companies.
3. How much time in advance should you book your wedding WC ?
As with all other providers when organising an event, it is preferable to book them at the earliest and this is even more true for the rental of wedding WC. Depending on the model chosen (for example the rental of dry toilets) and depending on where your reception is taking place, you may be confronted with a limited offer of providers proposing this type of service and with the obligation to use a provider more distant from your sector (with a higher final cost), if you rent it too late. So think about finalising your mobile toilet rental at the earliest.
4. What if you made your own wedding WC?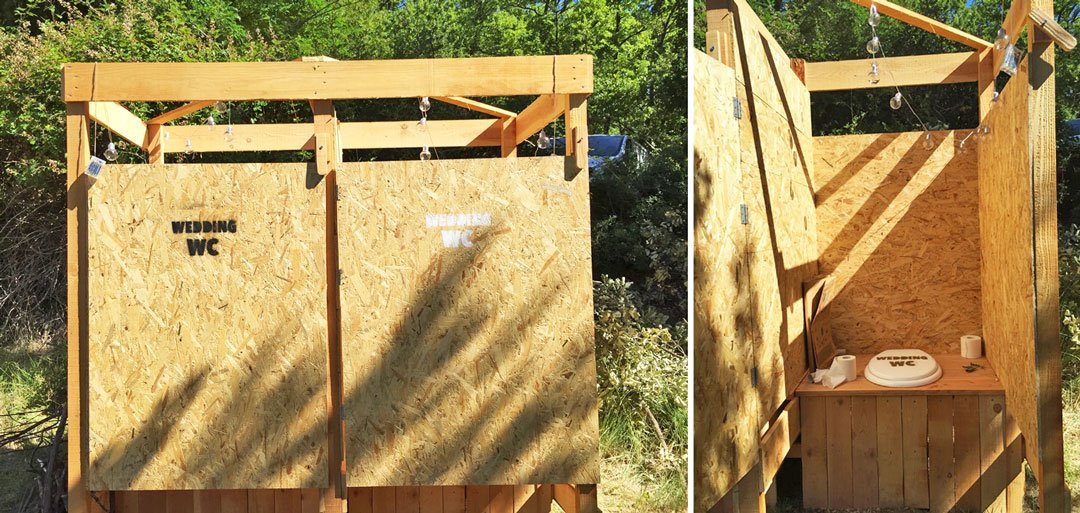 Making your own dry toilets is very easy. Simply make a wooden box strong enough to support a person's weight, dress it up with a toilet flap, then attach a container underneath to accommodate wood shavings and organic matter. Only a few wooden planks are missing to form a cabin, a light garland and voila!
5. How to bring a touch of fun to my wedding WC?

No matter if you have opted for a chemical WC, a dry toilet or a luxury sanitary caravan, there are small things you can do to dress up your mobile sanitary and that will make the difference... Dress the walls of your wedding WC with foliage to camouflage the exterior, add nice details such as small bouquets of flowers, baskets of toilet paper, towels to wipe your hands, pretty soaps and candles inside... All these attentions towards your guests will certainly enhance the aesthetics of your portable toilets.
THE BRIDE AND GROOM BELL TENT
Enjoy an unforgettable experience by choosing the Wedding bell tent. Real wooden bed, linen bedding 100% cotton, bedside tables, cushions, carpet, small living room,... All the cosiness of an hotel, the bohemian chic charm in addition...
The most popular package for our customers. Perfect for families with children, the cosy bell tent is set up for you with 4 beds (single or double), bedside tables, led lanterns, carpets and beds are made on arrival.
Mon Wedding Camping is a brand of the company Ça Me Tente - Hôtellerie nomade since 2014.