10 tips for a successful Wedding Camping
You plan to get married and you want to organize a Wedding campground to host your guests in the place of your wedding, here are 10 tips for a successful Wedding Camping.
Tip # 1: The place

Wedding Camping L & D in the castle of Old Melays in Neuvy (Allier)
A castle of the 17th century, a beautiful castle nestled deep in a forest, a large area lost between vineyards and scrublands or just a camping feet in water, many places are suitable for the installation of a Wedding Camping.
Do not be afraid to ask during your reception site visits if the owners accept the installation of tents on their land, you will be surprised how many of them accept without complaint, being fully aware that their accommodation capacity will not accommodate all your guests.
The accommodation of the guests at the reception venue has become the first priority of the bride and groom and reception venues owners, eager to better meet the expectations of their customers, have understood … Book conventional dwellings for seniors and install your Wedding Camping for the rest of the guests.
Tip # 2: The date of your marriage
Wedding Johnny Depp & Amber Heard on their private island in the Bahamas in 2015
A Wedding Camping, it's still more fun in the summer. Prefer the summer months: June to September to ensure you and your guests in summer temperatures both day and night.
Tip # 3 Be realistic …
The Wedding Camping is good, but not for everyone. Do not be offended, but beyond 45 years, you will have a hard time convincing some people to sleep under the tent and that's good, "the young with the young, the old with the old" Oupss, I believe I went there a little strong on this one !!!
Joking aside, it is true that the Wedding Camping is perfect for your cousins ​​and your cousins, your single friends, friends, couples and friends with children. For seniors, prefer a more traditional housing.
Tip # 4 Estimate the size of your campsite
Earlier you will estimate the number of Wedding Campers, the better you can optimize your costs. When sending invitations to your wedding, specify your invitations types of accommodation offered and thus estimate the required number of tents. Count 8 adults or teenagers 10 or 14 children (10 years) per tent.
Tip # 5 Choose your level of service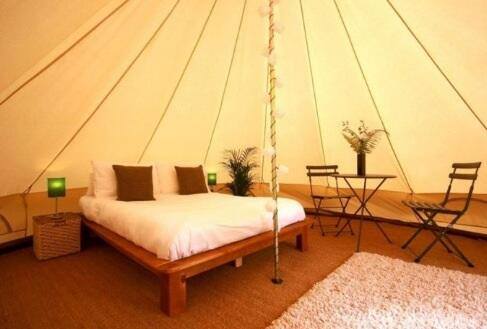 Several levels of service are available with CA ME TENT, please visit this page to see it. Rental naked tents, tents with equipment rental, installation / removal, Bedding installation package dice stay late, find here all our rates.
Tip # 6 A touch of organization
Chris Spira via FrenchWeddingStyles
A Wedding Camping successful is a Wedding Camping organized. Who sleeps with whom? Children, teens, singles, couples, where they will sleep and with whom? And then you start to see the puzzles of the table plan to return in the form of puzzle tents plan … Do not panic !!! We are here to give you valuable advice …
Let's talk first child, how do you sleep in separate tents? No more bout'chous who fall asleep on the floor because they must wait for their parents to go to bed. With the Wedding Camping, children sleep close between them and can sleep when they are too tired. Adjoignez you the services of a babysitter to monitor and enjoy your evening !!!
Next are teenagers same recipe as for the children, they are made to sleep in separate tents, girls with girls, boys with boys …
As for couples and singles, it's like you want. Either you arbitrarily decide that Mr. & Mrs. X will sleep with Mr & Mrs Y, or you let your guests choose to settle with the people they want … Last solution, a little more "roots" I admit, first come, first installed !!!
Small reminder of the capabilities of our tents: 8 adults or teenagers 10 or 14 children (2-9 years)
For prices, see our Services page.
Tip # 7 Amenities
Photo credits: Chlorophyll
And yes, you can not miss out on the fateful question of sanitary … How will my guests they can go to the toilet or take a shower the next morning?
If you have chosen as your wedding installation campsite, a campground, you're probably saying to yourself, well we, we will not have this problem, and it's true !! Wedding install its Camping at a campsite it is the simplest and most practical solution: all infrastructures are within reach and your guests feel at home, self +++
If you have chosen as your installation a wedding camping Cevennes farmhouse of the XVII th century, the charm and authenticity do not have a price for you, you will ensure that your guests will have access to sanitation (often those rooms rented by the family of married) but again, rest assured, this is going very well and adds an extra touch of warmth see holiday camp spirit that is sure to delight your guests and their leave an unforgettable memory …
Alternatively, rent mobile health, generally used for events and festivals, many companies offer them at a very affordable price.
Tip # 8 The duration
What is good with Camping Wedding is that you can extend its festivities over several days. Many places now offer rentals for the weekend (Friday to Monday) or even the week so why not take the opportunity to enjoy your friends and family a few more days?
Tip # 9 Meals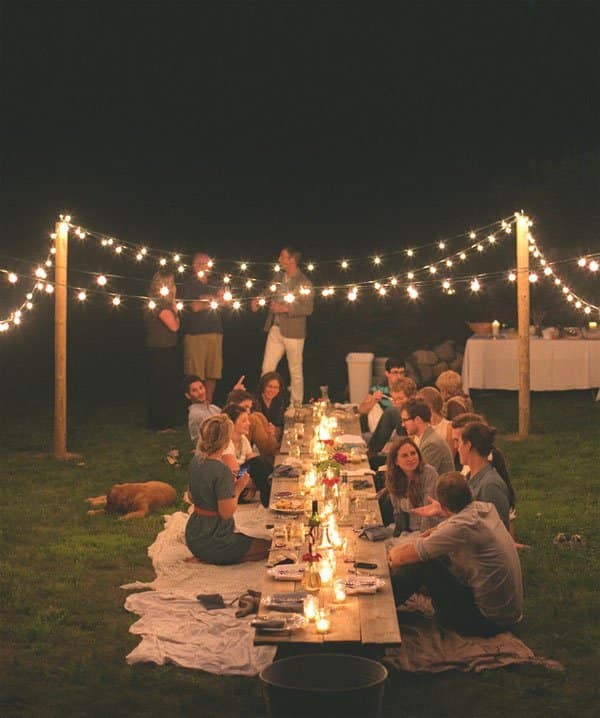 Photo credits: Oh happy day
Of course the day of your wedding, it is often the caterer who takes the hand to feed your whole tribe, and that's good, you will have many other things to deal with than the meal on this day so special.
A good idea for the next morning is expected to be delivered breakfast in your favorite bakery or a company specialized in home delivery.
As for Sunday lunch, get electric barbecues and planchas or do things with ease. Along with some salads and cheese plates, grilled meat you will win for sure a big success in small as in great. In addition, the boys love caring grills, so you will not hurt to get help from your friends for cooking … If you do not have the ability to connect electrical appliances, a cold meat platter go as well …
Finally for dessert, have been careful to always order a dessert at your favorite bakery or ask your best friends or your dear mother to make for you.
Tip # 10 Enjoy !!!
Enjoy this beautiful day, it is unique and it's yours. You are the kings of that day, and nothing should be able to come alter your joy and happiness !! All our best wishes !!
With these 10 tips for a successful Wedding Camping, you are now ready (e) to get started in organizing your own wedding campsite, now tell your guests of your wish to install a Wedding Camping at the place of your wedding and see the idea as surely seduce your guests …
And you, what did you think of these 10 tips for a successful Wedding Camping? What other advice do you have for a successful Wedding Camping? Share with us your tips for a successful Wedding Camping?